Redmi sends regards to OnePlus, but claims the Flagship killer title for the Redmi K20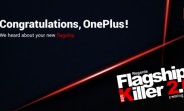 Redmi's upcoming flagship got its name officially confirmed yesterday as the K20 and now the company also revealed that it's coming to India soon. The self-proclaimed Flagship Killer 2.0 will feature the Snapdragon 855 and a 48MP camera without breaking the bank. We also got to learn that the internal name of the device is the "Demon King".
Congratulations @OnePlus team! 👏 There's a new flagship in town.

Flagship Killer 2.0: coming soon.. Hold my dragon! 🐲 pic.twitter.com/wnqaLbUTSw

— Manu Kumar Jain (@manukumarjain) May 15, 2019
Xiaomi's VP Manu Jain decided to congratulate OnePlus on the launch of their new OnePlus 7 Pro flagship and went further on to explain how the "flagship killer" mentality associated with OnePlus devices has all but disappeared, leaving Redmi to take its place.
They are choosing to "Never Settle" when it comes to pricing. At Xiaomi, we've believed in making innovation accessible to everyone by developing such Flagship Killers. As you will see again soon. - Manu Jain
Back in 2014, OnePlus was marketing its phones as flagship killers but since then the company has steadily increased their prices. With its latest OnePlus 7 Pro starting at $670, the company is now competing with the more established premium brands and Redmi is looking to fill the void with its own line of high spec'd devices with lower price tags.
T
We are talking about flagship killer, mean this is going to be a flagship. Xiaomi A series is Low to Mid-end range.
?
Mi A series does not include yet their flagship devices, waiting here to see how MI A3 will fare. Also I heard that aside gaming optimisations, Black Shark 2 international is pretty close to stock, but did not have a chance to play with one of tho...
ADVERTISEMENTS