The Nokia 6110 Navigator is to land right where it belongs, as Renault and Nokia team up to launch the Twingo Nokia special edition. The car will draw on the Nokia 6110 Navigator's full in-car navigation capabilities. To accommodate its high-tech add-on, the Twingo Nokia special edition will be Bluetooth-enabled to ensure seamless connection and hands-free control of the handset. In return, the Nokia 6110 Navigator will feature a special holder with a suction cup for secure fixing to the car's windshield.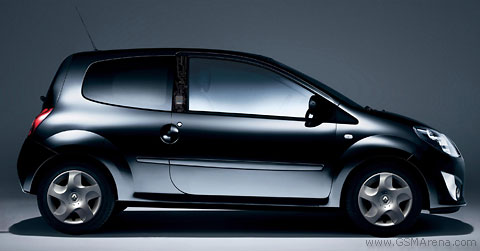 The 6110 Navigator offers full GPS navigation capabilities, along with the Nokia Navigator voice and visual guidance application. Road maps and street plans are preloaded in the handset's MicroSD card (up to 2GB). Besides in-car navigation, the 6110 Navigator will provide Twingo Nokia drivers with a full list of contemporary mobile features, such as HSDPA, video calling, a 2-megapixel camera, FM Radio and music player. By the way, expect our full Nokia 6110 review next week.
The Nokia 6110 will also take advantage of another enhancement of the Twingo Nokia - the audio connection box. The device is placed in the glove compartment and has three auxiliary inputs: USB, 3.5 mm jack and an iPod-compatible DIN connector. The 6110 Navigator connects to the box using the supplied USB cable, so its music functions can be enjoyed on the car stereo.
Except for the music-control-enabled steering wheel, the Twingo Nokia will have a few distinctive exterior highlights such as special dark metal trims and tinted rear windows as standard equipment, plus a Nokia logo and a faux circuitry badged on its B-pillar.
Are we to expect Renault-styled Nokia handsets in the future, too - only time will tell.
The Twingo Nokia will be priced from EUR 12,950 in France. It will also be released, from November 2007 onwards, in Italy, Germany, Slovenia, Belgium and Holland.
?
haha yeh proberly why i cant get them into my store for like ever! bloody renualt!!!!
S
nice car indeed,way to go nokia we all proude to be fans.fantastic work.
S
This is probably why Nokia cannot supply the 6110 in Australia at the moment for approx 6 weeks, too busy hooking up with Renault lol.
ADVERTISEMENTS