Renders of iPad mini 6 suggest two punch holes: for the selfie camera and for the FP reader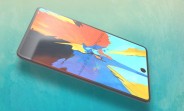 Leaked renders of the iPad mini 6 suggest that Apple is on the verge of a major change in direction – for its tablets and perhaps later on for its phones too. The images come @xleaks7 and CoverPigtou, a collaboration that has a good (though not perfect) track record when it comes to leaking designs of upcoming devices.
Look at the renders and notice what is there and what isn't there. This tablet could become Apple's first device to feature a punch hole front camera. And there is no FaceID hardware, the mini will keep using a fingerprint reader.
And not just any FP reader, this one that appears to be inside a punch hole itself (as in, not an under-display reader). Two punch holes and on an iPad mini of all things? These renders should be approached with a healthy does of skepticism.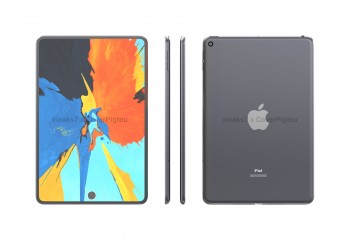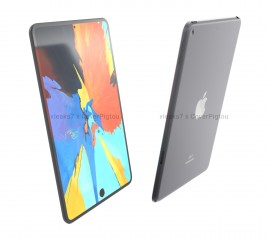 Apple iPad mini 6 (unofficial renders)
Even if the selfie camera does go in a punch hole, the FP reader could be relocated to the power button, just like on the new iPad Air. Under-dispay readers are quite cheap too and won't require the UI to go around the permanent circle of such a reader (they would require a switch to OLED panels, though).
Perhaps, this is less crazy than it sounds – last week Bloomberg published a report, saying that the iPhone 13 will have an in-display reader. That report implied an under-display reader rather than a punch hole though.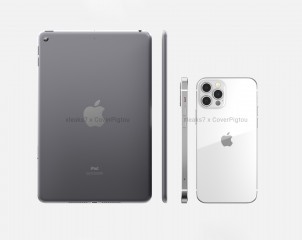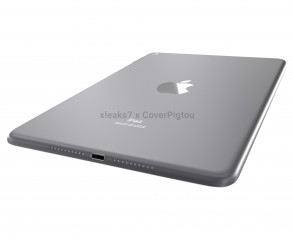 Size comparison - iPad mini 6 vs. iPhone 12 Pro • Bottom view of the iPad mini 6
Anyway, the last iPad mini had very chunky bezels. Slimming those down will allow the display to grow to 9.15" (up from 7.9") while keeping the slate's dimensions essentially the same – 203.2 x 134.8 x 6.25 mm.
Last year Ming-Chi Kuo did predict a 9-inch mini, but the analyst made no mention of such major design changes. Most of the predictions have been centered on the arrival of microLED panels and those are headed to an iPad Pro.
Apple is expected to unveil new iPads in March, so we'll see how much of these punch hole and microLED rumors prove to be true in a couple of months.
Source (in Italian)
?
Lol! The iPad Pros don't.
ADVERTISEMENTS