Report: no 1TB version of iPhone 13 Pro, no LiDAR for the non-Pro models 
Market intelligence firm TrendForce published its prediction of Apple's strategy with the upcoming iPhone 13 series. Or perhaps it will be called Apple 12s and it may as well be as this generation will focus on improving the features introduced with the 12.
Component shortages have driven prices up, but according to the analysts Apple will maintain the pricing of the current generation starting at $700 for the mini (though the mini will not be the focus of attention, more on that in a sec).
Apple is also upgrading some components. For one, the iPhone 13 Pro duo will have AMOLED panels with 120Hz refresh rate (LTPO panels) and the notch will be smaller thanks to the new, slimmed down housing of the Face ID components.
All main cameras will switch from the traditional OIS to sensor shift stabilization. Also, the ultra wide-angle modules will feature more advanced 6P lenses with autofocus. TrendForce contradicts the earlier report that all models will gain LiDAR, saying that only the two Pros will have it.
That report also claimed that the two iPhone Pros will have a 1 TB storage options, not so says TF, meaning that they will once again top out at 512 GB. All models will use the new Apple A15 chipset, however, based on the upgraded N5P process from TSMC.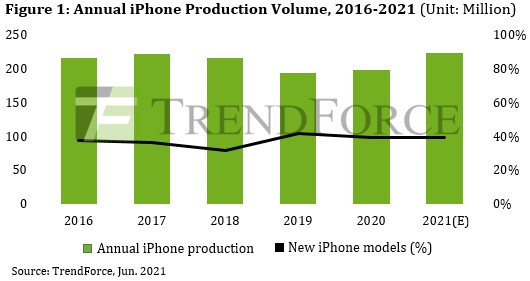 The analysts forecast that Apple will produce 223 million units, thanks to increased vaccination rates and easing of lockdowns. This means that the new series will account for about 39% of all iPhones that will be produced this year. Combined with the 12-series, (most of) which is still in production, the share of 5G models in Apple's stable will shoot up from 39% to 75%.
According to an earlier TF report, iPhone 12 mini production was stopped as it just failed to meet sales targets. The company doesn't have huge hopes for the 13 mini, apparently, as the analysts expect Apple to concentrate its marketing efforts on the three larger models.
Source | Via | Header image
If apple makes a 1tb version for the 13 pro max samsung might have to release one for it s22 ultra
?
Simply backdated people wil always stay backdated
?
I know that people have spelled their conversations right, but for me, I am really not a good person! I just don't want things to get worse, but if this pandemic would go away, I would totally be happy if everything's starts to go back to n...