Many fans of the open source nature of Androidís operating system were upset to find out that there is still no root for the Galaxy S7 running the Snapdragon 820 which was basically all of the Galaxy S7s sold in North America.
Root has been somewhat achieved thanks to a new exploit by Senior XDA member Sunderwear. While there is still no writeup of steps for rooting, Sundwear is working on a root exploit and almost there. Here is a video of his proof of concept. Root works in most of the apps that request it. There are still bugs, however, and the root is far from finished.
The original post was made on June 10 and Sunderwear ends the post with ďNo ETA yet..ď His concept for root has been proven with a root checker app that detects if a phone has the correct root or not.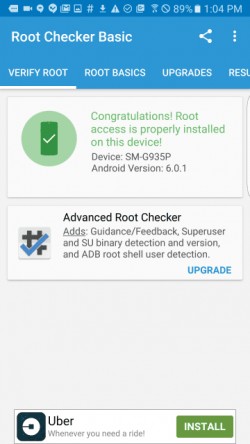 Itís not known whether or not the bootloader has been successfully unlocked or if temporary root was achieved through some other exploit. But we are glad to learn that root is not very far from becoming a reality on the North American variants of the Galaxy S7 lineup.
Either way, we are really looking forward to seeing the Galaxy S7 with root action on the States' side. We don't recommend rooting any device unless you know what the risks are and actually know what you're doing.
C
In the same spirit of the poster above... The Galaxy Nexus was rooted long ago. I had breakfast this morning.
D
the chinese have rooted and made a rom for the snapdragon g9530 months ago...but they didnt have a locked bootloader to contend with......
L
Towelroot isnt updated to support new phones?