We're clearly many months away from the unveiling of the Samsung Galaxy Note 5 at this point, yet today a rumor surfaced claiming to shed some light on the next high-end phablet.
Apparently Samsung will only release one version of the Note 5. This will come with either a QHD or 4K Super AMOLED screen (both resolutions are currently in testing), and no 'edge' curve.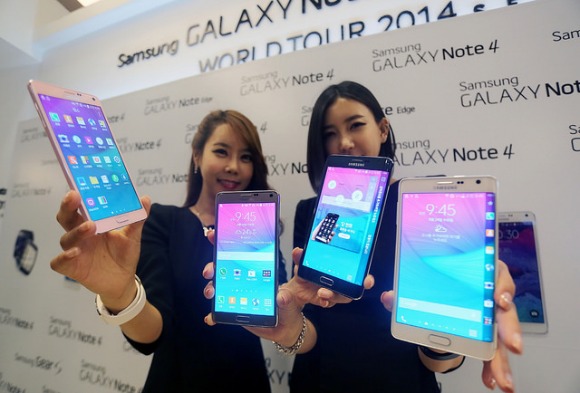 The phablet will be powered by Samsung's upcoming Exynos 7422 chipset, though some units are being tested with an entirely new Exynos 7430 chip as well. That said, the latter is unlikely to be ready in time for the Note 5's launch, so it looks like we'll have to make do with the 7422, which will be a slightly improved version of the 7420 that's featured in the Galaxy S6 and S6 edge.
In fact, the Exynos 7422 is said to be Samsung's first ever all-in-one solution, coming with integrated CPU, GPU, RAM, storage, and modem on the same chip.
The Galaxy Note Edge from last year will get a successor, but this won't be identical in hardware to the Galaxy Note 5, it turns out. The handset is codenamed Project Zen, and it's apparently going to come with a 5.4" or 5.5" Super AMOLED dual-edge curve touchscreen (like the one on the S6 edge), an S Pen like the Note series, but the chipset choice will be lower-end.
Project Zen is said to be powered by Qualcomm's Snapdragon 808, the same SoC that's inside LG's recently revealed G4. This device should also have a 16 MP rear camera with optical image stabilization, an 8 MP front snapper, and 16GB of internal storage.
Don't forget to keep in mind that all of this information comes from a yet-unconfirmed rumor. Additionally, even if it is 100% true, we're at a pretty early stage in the development of these phones, so things may change in the future.
H
Can't understand your English but I think I understand what you are trying to say
D
You can't blame Samsung for the lack of software that makes use of all these improvements, and with the hardware what do you want them to do? Add a food blender, microwave, what? The Note has all the latest hardware on there with graphical power eq...
?
Who came out with the "release new model every year" trend? Now that the flexible technology is slow and they keep releasing similar new models every year which bores customers every year...so now they are now brainfreezed in terms of desig...
ADVERTISEMENTS