The Samsung Galaxy S9/S9+ have already been the subject of several rumors and leaks, and unsurprisingly, new ones are continuing to pop up. The latest one - out of China - is suggesting the devices' RAM and storage variants.
The rumor says the Galaxy S9 will be available in 4GB RAM and 64GB/128GB storage options. As for the Galaxy S9+, it'll come in 6GB RAM and 64GB, 128GB, and 256GB variants.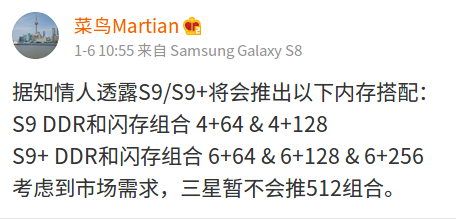 Here's the translated version:
According to insider revealed S9 / S9 + will launch the following memory with: S9 DDR and Flash Combo 4 + 64 & 4 + 128, S9 + DDR and Flash Combinations 6 + 64 & 6 + 128 & 6 + 256. Taking into account the market demand, Samsung will not push 512 combinations.
As you can see, there's also a reference to 512. From what we could understand - and corroborated by other reports as well - there may even be a 512GB storage model, although that'll be offered only in select markets.
D
S8 came with 4GB ram with new UI.. look free space of ram. About 1.2GB free.there are Major updates have to come. What will happened to ram after that updates?? LOL
D
I can't believe that Samsung still have 4Gb of RAM. But if performance is better enough is ok. I hope Samsung has 5.5" for S series with the same spec and good price.
D
I agree with you 100 %. My current phone is 5.2 inches and thats big enough. I would stretch up to 5.5, 5.6 for the right phone specs, but thats only a compromise I'm willing to make below flagship level. Anything bigger is too big to pocket unles...
ADVERTISEMENTS