There's quite some murmur going about town about the so-called HTC Dragon. Someone did manage to get their hands on a prime suspect - an unknown HTC phone running Android. What's clear from the spy shots is that the device is a GSM phone with 3G connectivity. The back shows a camera with an LED flash and a Google logo, which suggests this is a "Google experience" phone.
There's quite some murmur going about the so-called HTC Dragon. So far, all we know is that it will be some kind of Android super phone powered by a Snapdragon CPU (notice the dragon-ish naming scheme). The display of this beast is a capacitive touchscreen with WVGA resolution.
Or so the rumors go anyway. A user named Reignzone from xda-developers.com got hold of a build of Android intended to run on the HTC Dragon and coaxed out some information. He also goes on to say it's based on v2.0 of Android (a.k.a. Eclair) and provides some screenshots of the interface - it's Sense UI through and through.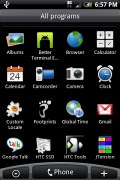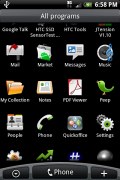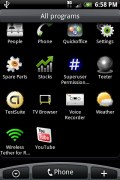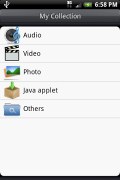 Alleged screenshots of the HTC Dragon interface
Read this with a grain of salt, as there are inconsistencies - the screenshots report the version as 1.5 and as the more vigilant among you will spot - the screenshots have a lower, HVGA resolution, though this is because the ROM wasn't running on an actual Dragon, which remains elusive so far.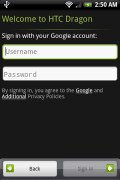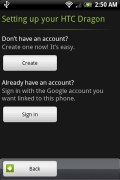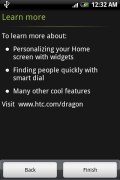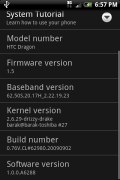 Notice the firmware version and the aspect ratio
And this is the first time anyone has got a hold of one - or at least of an HTC smartphone with a name that's still unknown.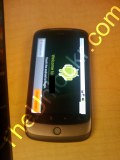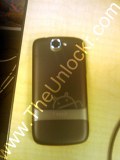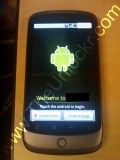 Could this be the HTC Dragon? And if so, is it based on HD2 hardware or not?
It's possible (or just wishful thinking) that the HTC Dragon (surely a codename) is going to be an Android version of the HTC HD2. The little we know so far (if it's even correct), matches up with the HD2. There are obvious discrepancies between the two - Android-specific keys and a trackball, in place of the Windows-specific keys.
Come to think of it, it's not impossible - just look at the Acer Liquid and neoTouch. It's the exact same deal - similar hardware running Android in one instance (Liquid) and Windows Mobile in the other (neoTouch). HTC could be doing the same with the HD2 and the Dragon.
Things to keep an eye on - Reignzone says that the HTC Dragon is "dubbed Zoom 2", and in the screenshots there's a link to www.htc.com/dragon, which doesn't work yet however.
Source: droiddog.com, theunlockr.com
L
After reading some pots i realize that Android it does support multitouch funcionality on display and have 16M colors wich is great! Just like HTC take windows mobile to a higher level due to HTC sense, now android is going to have it too a better ...
?
i thought the guy was joking or something cause the difference in time is almost 15 mins haha
ADVERTISEMENT