The LG Optimus G is one of the most powerful phones on the market right now and it got the honor of being the basis of the latest Google Nexus phone. Yet, LG may already be working on an improved version, the LG Optimus G Pro.
Blog of Mobile came upon some info that points to the Optimus G Pro joining the 5" 1080p fight. The quad Krait CPU will be clocked at 1.7GHz (up from 1.5GHz) and the battery capacity has been bumped up to 3000mAh. It might also pack an IR port, similar to the Sony Xperia ZL.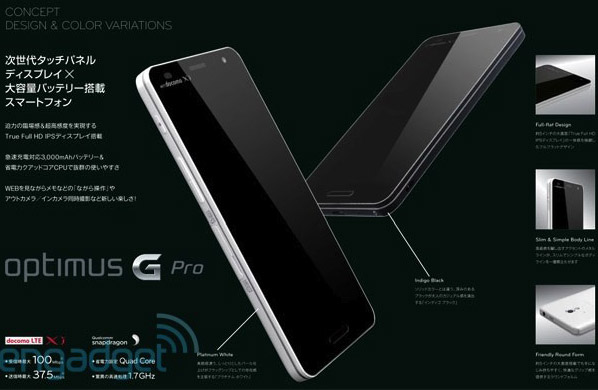 The rest is pretty much the same – 13MP camera, Android 4.1 Jelly Bean, 2GB RAM, 32GB storage, LTE connectivity, dual-band Wi-Fi a/b/g/n, NFC, wallet and a couple of digital TV standards (presumably, those won't make it to the worldwide version).
The LG Optimus G Pro will measure 139 x 70 x 10mm and weigh 160g according to rumors.
A couple of things lend some credence to the G Pro rumors - the image above was sent to Engadget by an anonymous tipster and Piet Zweegers, who sent this in to us, found out LGOptimusGPro.nl is registered by LG Electronix Benelux (there's nothing at that domain at the moment).
This isn't the first time we're hearing of such a device - it sounds very close to the rumored specs of the LG Optimus G2.
If it pans out, it will be interesting because the G Pro will depart from the 16:10 aspect ratio of the Optimus G (unless the Pro has a 1200 x 1920 screen, which was mislabeled as 1080p by the rumors) and it will undoubtedly spark rumors of a Nexus 5.
Thanks to Piet Zweegers for sending this in!
a
Superb device with all the latest features...good job LG
j
smooth as silk,nice one LG
ADVERTISEMENTS