About a week ago, a Sony Xperia SL LT26ii showed up on the Indonesia's version of the FCC. The site offered no info on its specs, but immediately there were speculation that the SL will be to the Xperia S what the arc S was to the Xperia arc.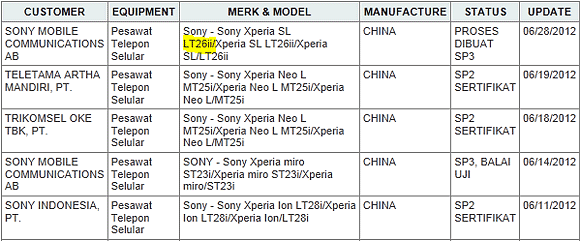 Now, a tipster has contacted XperiaBlog and told them that the Xperia SL will offer a CPU upgrade and will be available in a new color. The tipster didn't offer any details on the potential new processor, but if we follow the "arc -> arc S" example, it should be a frequency bump (the MSM8260 chipset is clocked at 1.5GHz in the Xperia S, but can run at up to 1.7GHz).
It's clear that they can't call the new phone Xperia S S, but the letter L might have been chosen for another reason. Remember the Xperia neo L, which increased the screen size of the neo V and launched with ICS instead of Gingerbread.
So far, this is all deep inside the rumor mill and we'd wait for more evidence confirming the existence and specs of the Sony Xperia SL - a leaked user agent XML or a camera sample accidentally uploaded to Picasa are usually how it goes.
r
what about battery they say it is non removable. what if batt fails
P
youno what? when u compare the SL to a phone that came out a week ago of course its gonna fall short, but when you rate it on its own, it is a fully capable machine with the s3 and it doesnt need the s4. I hate ios and samsung phones are just plan...
ADVERTISEMENTS