The rumored LG E900 was caught on highly blurry video a few days back and but now, thanks to that shot of pretty decent quality, we can finally get an idea what to expect. Still, the E900 features remains a mystery which, however, should be solved soon.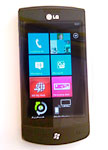 LG E900 runs Windows Phone 7 and poses for a shot
The first devices based on the Windows Phone 7 platform are expected in October so it's not strange that we spot more and more of them in the wild even if none has been officially unveiled yet. Today's addition to the list of rumored WP7 phones is the LG E900.
This image sure is of quite high quality (unlike the LG E900 video we came upon this Monday), but, sadly, it doesn't reveal any of the E900 features, save the obvious one - the touchscreen.
G
Stop spreading false information! It is one thing if you don't like WM, it is a complete different story to spread lies!
e
trainspotting is great mate..;)
s
i do not want to argue, but MS announced that wp7 will lack multitasking just like Apple's iOS.
ADVERTISEMENTS