Some previous rumors may suggest that Sony will be abandoning its two-flagships-per-year strategy, but rumors about the Xperia Z4 family have already started just months after the release of the Xperia Z3 and Z3 Compact. Alleged insider info claims Sony will come out with a full Z4 lineup – the Xperia Z4 flagship, the Z4 Compact, a Z4 Ultra phablet and a Z4 Tablet.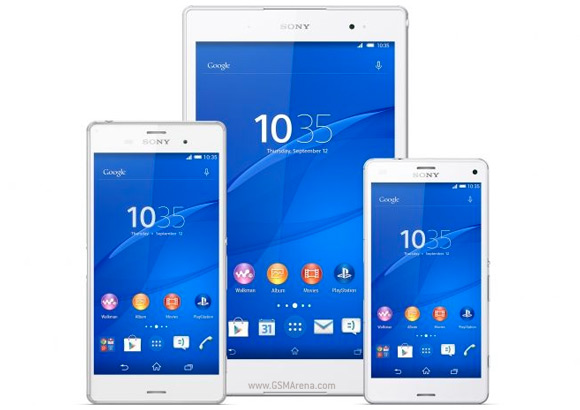 Sony Xperia Z4
The Sony Xperia Z4 is said to solve the messy cable situation of previous generation by dropping the magnetic charger and moving to Qi wireless charging. The microUSB port (which some users report loosens with time and compromises water resistance) will be the kind that survives water without any flap at all - like the one we've seen on some recent IP-rated smartphones. The phone will maintain its IP68 rating nonetheless, say the insiders.
Sony Xperia Z4 Compact
The Xperia Z4 Compact will stay about the same size with a 4.6" screen, but bump up the resolution to 1080p (up from 720p) and upgrade the internals. Quite likely, the two Z4 phones will use the same chipset.
Sony Xperia Z4 Tablet
The Sony Xperia Z4 Tablet will return to a 10.1" screen, there's no info on a Z4 Tablet Compact. The screen will probably be QHD (1440p) though Sony reportedly is trying out 2160p as well (aka UHD/4K). Sony's current tablets are at WUXGA (1,920 x 1,200px), lower than their main competitors, so QHD sounds more plausible.
The bezels are said to be much smaller though but the front stereo speakers are here to stay. The tablet will be powered by a Snapdragon 810 with a 64-bit octa-core processor (Cortex-57/53 big.LITTLE), 4GB RAM, 32GB of built-in storage. The camera department will be bumped up to 13MP for the back and 8MP for the front.
Sony Xperia Z4 Ultra
The Sony Xperia Z4 Ultra will be only the second Ultra (this phablet line skipped a few generations). The screen is said to stay at 6.4" – which is both good and bad, depending on how you feel about Z Ultra's size – but will move up to either QHD or 2160p resolution.
It goes without saying that these rumors are unsubstantiated and could just be wishful thinking. Oh, and the image above shows the current Xperia Z3 roster (there's no Z Ultra this generation).
Y
If Z4 Compact coming with Snapdragon 810 & have good battery life, Sony will be the king again in this segment.
J
when will it be release?
ADVERTISEMENTS