We first heard about the YotaPhone a full year ago, when Russian company Yota announced its plans of adding an e-ink display to a smartphone. The final product is now available in Russia and parts of Europe with dual 4.3" displays on either side.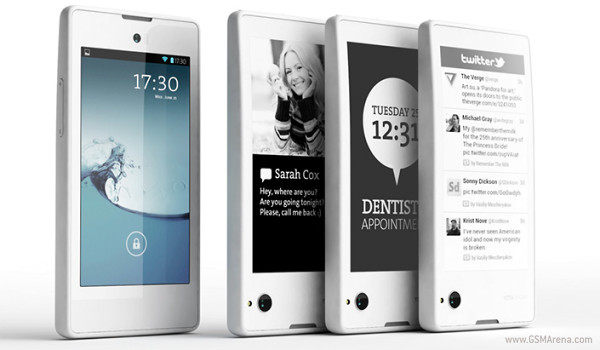 The e-ink display on the back of the device sports a resolution of a somewhat paltry 640 x 360 pixels, but enhances the user experience by displaying images and notifications from the primary LCD on the front while conserving on battery life at the same time. Since e-ink doesn't consume resources when displaying static images, its usefulness when reading ebooks or notifications is immense.
The rear display is not a touchscreen itself, but features a "capacitive touch zone" underneath for gesture controls.
Otherwise, the YotaPhone is your standard mid-range smartphone. It features a dual-core 1.7GHz Krait CPU, with 2GB of RAM and 32GB of internal storage. Yota has managed to squeeze in 13MP primary camera on the back with 1080p video recording, as well as a 1MP front-facer. As an added bonus there's LTE support as well, and it's all powered by a respectable 1,800 mAh battery. The YotaPhone runs Android 4.2.2 Jelly Bean.
Yota has some 500,000 initial units available across its launch markets, which include Russia, Germany, France, Austria, and Spain. The device is expected to then become available in the UK, Greece, Czech Republic, and Cyprus in January.
Yota has no firm plans for a US release, but we assume that'll be largely based on the success it sees in Europe. Other European markets are also targeted for a Q1 2014 release. You can find the YotaPhone in Black or White here.
?
yes the phone is release in flipkart
D
Common guys, Most of us have a habit of commenting on things without even knowing well about the device let alone having experienced the device. So, please know well and think wise before you should post any comment. Thank you
j
Wen is dis phone going to release in India?