SA: Apple dominated tablet market in 2019, Qualcomm a distant second
Strategy Analytics posted an analysis on the 2019 tablet application processor market. Apple got 44% of the $1.9B pie thanks to the dominance of the iPad in the niche. Of course A-series processors are quite expensive so the actual share of sold tablets is somewhat lower, but Apple slates are still the runaway leader.
Qualcomm and Intel got 16% each - the first one mostly thanks to its partnerships with various Android OEMs, while the second because of its strong positions in the Windows tablet market. Mediatek and Samsung are also in the game, rounding up the Top 5.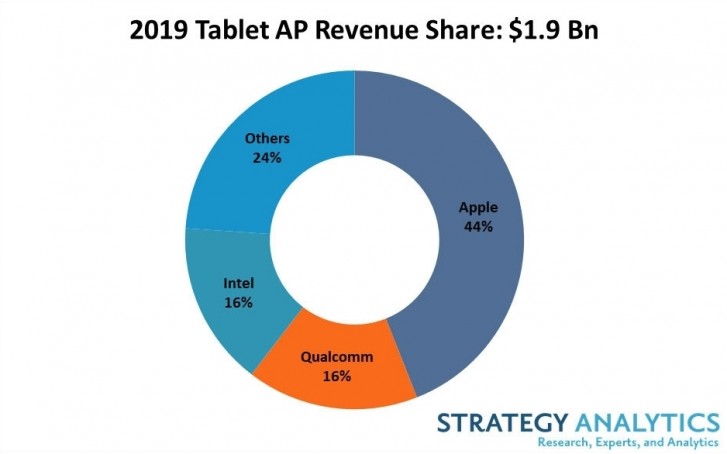 Two companies that increased their sales were HiSilicon, Huawei's chip division, and Samsung LSI. They grew on a yearly basis for two major reasons - one is brand loyalty and properly working internal ecosystem, while the other is "cellular integration capabilities", meaning support for LTE and 5G.
H
Except for in China and India, I still can't stand using iPad OS but unless there's a tablet maker doing a better job than apple of Huawei the market is really non competitive.... There needs to be more enthusiasast grade tablets
D
Yes, I said more powerful, not more anything else. And it is more powerful, 2018 iPad pro was at the same performance level with the macbook pro 2018. Of course you can't do everything on it, but with the introduction of iPad OS and also being ...
ADVERTISEMENTS