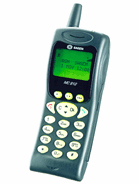 t
Dear All

I need Instructional Book for Sagem MC 922, please send it to me, thanks.

regards,
tjatur
W
places send details MC 922 or MC 926
M
What is the price in euro's for this telefone?
c
dear sir,i am from antwerp,belgium and i have a sagem mobile mc912 i would like to ask address in antwerp where i can buy a new battery for my mobile.because i need one urgent.i'm waiting to hear from you.
thanks in advance. chaim rand
W
Not so good! Especially the fact that it doesn't 'remember' the last calls (only last 2 called/received) And the phonebook isn't really handy!
B
i like this phone, except when txting, having to hold the number until the desired letter comes. other phones are much faster because you only press the number the required amount of times. Is there any way to change this slow feature?
F
My ponsel and friends sagem 912 mc have been the same damaged, when turn on ponsel just word sagem in the first, an then my ponsel hang (light of the ponsel on if to turn off the battery must be take off), so how to repaired my phone or what damage in my ponsel thank you very much.
Im sorry my English not Well.
K
Excellent phone, but hard to find a nice program to manage phonebook using cable with pc. (still looking for a progr.)
D
Good phone but you can't get anything extra's for the phone like a data-cable or extra ring-tones
Total of 31 user reviews and opinions for Sagem MC 912.
ADVERTISEMENTS