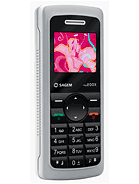 L
A Sagem my202X was bougt ( in Central America ) completely new in August 2oo6 .

Three ( 3 ) days after the purchase , was necessary to replace the battery charger ( Made in China by Astec ) because it didn't work any more.

A Digicel shop provided a different battery charger inmediately .

Sagem my202X is made in EU .

L
Sagem my202X has an introductory price of usa$46 dollars ( Central America , Digicel telecommunications company , August 2oo6 ).

Easy to see colour display .
Available different ringtones for incomings calls , messages , and alarm ( some are funny sounds : cat , dog , cow ).

In a Sagem my202X cell phone ( recently adquired ) some keys are hard to click ( sometimes you have to press a key several times in order to display a character ).

It has an in-built speaker that sounds sufficiently aloud and clear .

Same Central American telecommunications company offers a Motorola C155 ( colour display ) as alternative ( less than usa$60 dollars ).
A
It it's not true ! , the phone is not canceled.

On 01.06.2006 i saw this phone in Bucharest, Romania, at a large cell phones shop. It was the my202x version with black body color . And the price is around 75 US Dollar$ (the price could differ in your country or city) .
The phone gived a good sensation when hold in hand . The body has an good quality plastic .
Also the my700x is awaited . Because the myX6-2 supply has run dry and rumors speak about the introduction of my700x
Total of 25 user reviews and opinions for Sagem my200x.