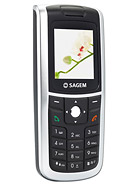 n
THis phone is a gr8 invention of sagem...

this is best phone ever after nokia 1100..

this comparison is a gr8 compliment...
a
Really great phone, simple but more than I've expeted. Too bad that aren't any compatible drivers for it.
?
first of all i have to say to have bought this cell phone for 5euros with a prepaid card, so i didnt expect really much of it...
nevertheless i was surprised of its classic but really nice design, it's stability (i think you can even drop it out of your window and it wouldnt crash!!), it's nice games (dont miss "ArcadeBox"!!) and its low weight.
On the other hand it is not feature-loaded at all, as somebody here already noticed (cant expect much for 5e though..!), but also the nice colored display makes it preferrable to many other low cost cell phones..
P
This phone looks very nice.
I hope UPC Mobile will sell them.
It has a classic look, nice round corners and the colors are modest and stylish.
Since Siemens isnt around anymore this is a nice alternative.

M
SAGEM!SAGEM!SAGEM!this phone is pathetic!!!Its a joke!LOW end phones dont need 2 be this feature WACK!if the executives,in that company where smart,they would offer lots more features,at low end phones,to get BRAND LOYALTY!
Total of 9 user reviews and opinions for Sagem my210x.