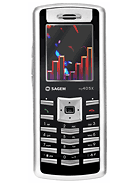 d
it's good. but i think it should have bluetooth and somewhere to input the memory card.because without memory card, i can not save anything from picture to music file.it'c incovienent.so i think segem should up grade it.

p
nice.. good internal memory, good design too, no bluetooth will hurt sales though.
R
Just like the sagem my X7, but with an extra 60 mb of memory! Good work though!
Total of 8 user reviews and opinions for Sagem my405X.