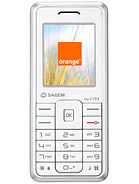 G
"In a WiFi Internet connection, it can place calls by VoIP , and it switches seamlessly ( handover ) to the GSM network when out of coverage" This is what i fund on a site.
m
how do i get to have my phone unlocking code because according to the varifications i got earlier on they were in french yet i donot understand the language
a
What is there to do with WIFI?
it has a small, poor resolution screen, i doubt the processor is fast either.

?
Dont get e wrong, but this phone, well is cruddy, i mean it has wi-fi, but vga camera and no 3g, i thought wi fi had to be configured with 3g, must be a shoddy handset then.
Total of 9 user reviews and opinions for Sagem my419x.