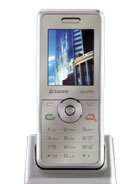 a
the reason for wifi on this phone is that the primary use of this phone will be to make voip calls (hence the base)
A
oppsss...sory.even u use wifi with this phone,u can download or open any web more faster in cheap price.
A
wifi,what u can do?is more better from gprs,and u can share with your wireless pc or anywhere got wireless broadband unsecured.that its.
c
wifi ? why?
what can you do with it in this phone?

A
hhmm..nice,simple and wifi...will considere to purchase...
Total of 6 user reviews and opinions for Sagem my429x.