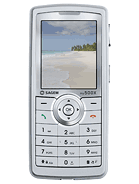 h
Hi Andy are you a Sagem phone manufacturer or what? you have answers to every question.Any way this for you I love Sagem and want to buy MYX6-2 or MY500X advise!
k
well on, but for me cuts unlimited means size unlimited (especially if it there is ecrit that it is according to memory disponible), zoom 8x siginifie zoom 8x and not 5x but what I like less it is when same the mp3(surtout that I bought it for Ca, for step to have to take gsm and mp3) not navigation in the file, not possible to make another thing bus obligation to remain in the multi-media reader..., one cannot same lira the hour without being obliged to start again the started file, finally short if I had suj' would have to buy another and if I could I, I would change it
a
Looks great in black!Yes,not to fast but the camera is good.I got unlimited video rec.on 6-2 and never use it.You don't buy a phone to make video...
k
don't buy this phone, the memory cash (like computer,but i don't know if i 'm using the correct word) is very cheap video max size 15 sec(even if you choose illimited size) the video is bad, you can read any video, with an 1G sd card the speed is very low, you only can make one utilisation,mp3 or the rest i mean you can't read your sms or make something else

so if you want to buy this phone for the video,the mp3 player and the sd card, you should not reconsider

because i did and i am now trying to find a way to give it back
S
kbs: my500X records videos in 3gp format, so it has to play it too! and I have 2 questions: 1. what is the speed of the phone (in menu etc.)? 2. what is the feel of the phone, materials used, does it squeak?
k
I just buy this phone thinking i would be able to see any 3gp file i'll put in it but nothing
Does anyone know how i can see those files
a
card reader- the fastest
bluetooth- fast, inexpensive and universal
cable- only original, other are bad
M
Andi,this cable "full speed' is some kind of special cable or just a USB one which i can buy in GSM services ? and which is the best ?
cable, card-reader or bluetooth?
a
You can upload Java via orig.Sagem cable "full speed"because this phone has card-slot!

my 501x will have BLUETOOTH.

M
if it had possibility to upload java games from PC would be great ;-)
but i think it will be like with any other Sagem phone, impossible :/
Total of 53 user reviews and opinions for Sagem my500X.