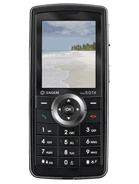 r
Oh..My God its not a phone itsa defective handset, there is no conti. video recording,horizentical vedio and not 8x zoom its only 5x.
?
um lol jus because the video is short it doesnt mean "dont buy"

god sum of you ppl really have no common sense
A
to kire,internal memory for this phone is 32mb,that enough for recording video about 30 minutes,it,s ok what for a basic phone can do like that,except your phone memory already load mp3 or else...that,s when u capture video can,t longer..mybe u need a video cam to capture more longer video.
Total of 47 user reviews and opinions for Sagem my501X.