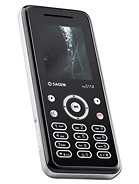 J
I live in Poland. I have this phone fron 5 days. I have to say that i'm suprised couse of this phone. specification is good, but you can also use your MP3 as ring tones. Thank you and milego dnia.(have a nice day)
M
this is a beautiful phone,but i tink it wud have been great as a sagem my x-9 successor.put more features,like 2MP,DVB-H & so on,& still make it affordable,this cud be a winner
M
beautiful phone,but if sagem was smart they should have made this phone a sagem my x-8 successor(we still waiting 4 it).but up the features alot more.2MP,DVB-H & alot more yet still make it affordable,market it correctly,they wud have a winner!
z
i find this phone to be great in size and apperance and and especially very sutible for a teenager like me !!!!!!!!!!!!!!!i like it and its not for granies
A
this phone as the most SAGEM mobile devices has the easiest manu in the entire market. But that doesn't mean it is good to use just for your granny.
r
This device is nothing special....great for your grandmother to use and that's it.
?
This is one of the most unique phones i've seen, phones here in canada look nothing like this.hope to see more new phones from this company
N
Vodafone Australia are launching this handset this month at $149 (Approx 70 GBP)
R
WOW! It's great. I judge by the look, thats one of the most complete devices I've seen.
Total of 131 user reviews and opinions for Sagem my511X.