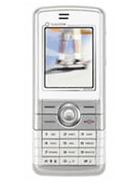 R
Do Sagem hire blind designers?

Somone needs to be shot and fired.

Start again Sagem, before its too late....
M
I've have just bought the MY 600V which has the exact same feautures/memory but an entirely different desgin. i was going into vodaphone to buy a K510I when this caught my eye, it really did look fantastic and had the added bonus of expandable memory. BUT only buy this phone if you have a bucket load of patience, heres a few "glitches"; Camera constantly freezes, has difficulty escaping full screen video mode, every now and then decides not to play audio files unless you reboot the phone, has an absolutely crap image viewer,comes with no memory card, pc suite or usb cable and has a back cover that requires the use of a hack saw to take off!!! BUT, there are some good points, when working th 1MP camera is superb, the 3G works wanderful, the video quality is great and the speaker really punches out great audio. so basically you have to weigh up the good and bad points, if you have patience then you should get along fine with this mobile, if you are like me and want to throw things out the window when they don't work then buy this at your own peril. email me if you want anything answered at: moocus@hotmail.co.uk
M
I love all the sagem phone.I have MYX1,and i want to have all the sagem phone but i don't have too much money....I WANT TO TELL US THAT SAGEM IS A GOOD INDISTRY...
A
I have see the Sagem my800X in Italy with the brand TIM.The price was 199€.
I think the price of this 600X will be about 149€.

I have the Sagem my700X, it is a very surprise, a wanderfull phone.The speed of the software is encredible, and it is very complet.I love it.
F
Damm,it's just the IRDA that lowers it value but still I hope it will be a good phone.
B
They promised to release my800x in June. Have anybody seen it?! :o This one (my600x) will be available in 2007 or even later! :D :D :D
good luck, Sagem :)
Total of 49 user reviews and opinions for Sagem my600X.