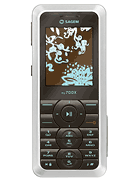 A
I am really interested at this one, may I ask the admins of this site to make a little review on this phone like u did with alcatel ot-s853, it would be fantastic to know more about it :):):):):):) thank you for your time
A
I hate that it is almost impossible to buy sagem in Lithuania (talking about shops) it sucks, when sagem will return to lithuanian market?!!!!! when!!!!!!!!!!!!! i am dying without sagem, *cries till whole world is sunk under water of teers*
A
nice styling , esp the keypad -but the spec almost a copy of alcatel s853 . Are sagem & alcatel build their phone base on same platform?
A
briliant phone, well, slim design, super to fit the pocket, but there is one smal detail, screen could be bigger, Sagem has the best ever screen, and one of the biggest in market, so why should use huge display, the display makes sagem to be very special, use your advantages :):):):):):):):):)))):) sagem rools
m
Good things is Radio,EDGE and small dimensions and bed things I can belive that no Infra red and Bluetooth.Maybe Sagem made another phone with this.Which is dimensions of the screen anyone knows that?I have Sagem X5-2 and it is soo good phone.I hope that Sagem upgrade this model,because a little things mising that this phone be a star.
B
I like Sagems X8 but what is this? Their first EDGE phone yet everyones moving to 3G and no bluetooth, that cant be right, step your game up Sagem ya'll aint built up from the X8 yet!
K
Nice design-ergonomy achivment although paradoxaly, as far as I can see, keypad seems stil to be shamly unpractical as it is on most Sagem (cellular) phones!! *GRRrrr* watapity :( My hope is that covers are replacable with more convenient ones...but now again Sagem : don't keep keys being too small -> That SUCKS!

KiC (FRA)

Total of 329 user reviews and opinions for Sagem my700X.