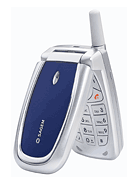 ?
i bought it with t-mobile prepaid
it doesn't support mms nor gprs,
despite what t-mobile says.
after some investigation i found out
that for mms and gprs you need the
my c2-3 -m version, odd what
for only phone-calls and sms it's
too expensive, despite its classy looks
S
It's a nice little mobile phone for all who use their phone for calling and writing SMS.

The build quality is good and it has a nice design.

But why
Announced 2006, February
Status Coming Soon ??

It's already available at T-Mobile Germany since December 2005 as prepaid phone for 69.95 Euro incl. 10 Euro phone credits.

l
just bought this phone in pink and i hate it i cant even recieve mms. its cheap but not worth the money i payed for it.
Total of 145 user reviews and opinions for Sagem MY C2-3.