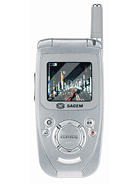 p
'hey' mr sagem hater or should i say mr 3310.try a my x 7 and maybe learn something.
s
this fone is a load of sh** as u can see!!! the colour is total rubbish coz it has 256 and it is totally out of its date! duz n e 1 agree wiv me e-mail me and join my haterz club NOW1 wat u waitin 4????
L
I am a lover of sagem products.Have been using sagem phone ever since i started using GSM handset.Please send specifications of your latest models to me to enable me make choice.thanks.Engr. Leonard Okoroama
a
i use so many brand cell phone but sagem hi top over all by look wise and specially by features it's excellent i love sagem mobile phones
E
would you like more ideas on what the next generation sagem phones should do? call me i will sure want to help
E
would you like more ideas on what the next generation phones should do?
K
Looks like it's just a MY-X 5 with a flip cover...

The design is nice though.
But it's true that its features are awfully outdated.
I don't think it's fair to compare it to a Samsung v200 as it costs twice the price of this Sagem. But if you consider the cheaper Samsung SGH-C100 with its 65k colours display and 40 voices ringtones, buying a MY C-5w will definitely leave you with a bitter feeling...

This Sagem should have been released one year ago!!
M
256 colours, only 101 x 80 pixels - that sucks. Don't get it, young guys.
e
hey im the firt 1 2 post a message on this phone. neways this fone is crap, the design is great but the features are out of its date. it only has a 256 colour display (i have a samsung v200 with 65,000 display) the polyphonic ringtones are only 16 voice tones while phones nowadays have 40 or 24. i could go on but hav 2 go i giv this fone a 4/10 overall. very crap!!
Total of 14 user reviews and opinions for Sagem MY C-5w.