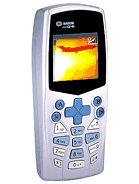 N
Ok! If you switch the display of your PC to 256 colours and look at a photo -> do you see 65000 colours ? And doesn´t the photo look much better at 65000 (nearly 256*256) colours? I would bet you have configured your graphics card to 24 or 32 bit colours. And you do so, BECAUSE it looks worse than 256 colours or it looks better than 256 colours ? LOL o:)))))))))))
T
They say it has suprisingly good colour for 256 colour display.... ive been to the site to whatever your name is..... DANNY IS WRITE
N
@danny
It has the same ugly Display with 256 colours like the T68i or the MY-X5. State of the Art Phones have 4096 or 65000 Colours. And not a LCD but TFT Display !!
You see the plane on this photo and think that is 256 colours ??
C
I am thinking of getting this phone. Has it got a calender? I need to know what it's like and what other functions it has and is it easy to use? Thanks!!
d
Think about the T68 ya dumb SHIT. Have you seen the colour on that phone?????? Its a 256 coluor. So think before you say anything more stupid ya dumbSHIT!!!
?
How can the colour for this phone is one of the best, it is only 256 colours what are you talking about??
Total of 170 user reviews and opinions for Sagem MY G5.