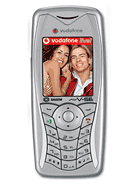 o
It is a pity that gsmarena gave a wrong details about this phone earlier, it is painfull i bought it already, but take care of the ringtones too, is not up to 40 polyphonics, i should have opted for my X 5-2v, but did not found the phone details on the gsmarena which is very unusual for the site it is known for it"s leading information on all types of sets, but the wrong information on v-56 is painfull pls watch it for future reoccurence
thanks
J
I bought the phone without a USB cable, does it mean it works with all USB cables or do we need more specification on the actual usb cable need? The phone is cute!!!
K
Just bought dis phone 2day.. funny enough d first I've bought without reading abt it first..also its my 1st Sagem..well I hope Sagem could suprise me..
e
its a good phone,no doubt.but i have a problem with the packaging content, there's no usb cable and i wonder why,
Y
1.i discover when i bought the phone myv-56 that the ringtone is not up to 40 as declared on gsmarena and the memory space is not up to 30M, can gsm arena expalin this to me i consider these two features b/4 buying the phone and after buying, i am disappinted with the number of ringtone i met on the phone and the memory was virtually 3M as in myv-55
F
i htink this phone is great compared to the one i had before a sendo s330 that was rubbish i think its ace how u can make ringtones.the only downside is that it looks ugly and big! i would definatly reccomend it :)
t
Where can you get the software and usb to be able to get the photos. The one from Vodaphone does not recognise this particular phone.
G
Could someone tell me if it possible to transfer data(such as pictures and video clips) onto and from a PC with just an Infrared,because I want to decide whether to buy an infrared for my PC or a USB cable,...Infrared is much cheaper :) ???
A
well it could have atleast 256k colours display, so nice design requires this, hey, sagem, remake it to be better one, like x8 or something :)
T
This Gsm is great, video recording: yes

But low graphics and low memory but low price :D
c
Could anyone tell me if this phone has video recording? and if the screen is much smaller than the myV-65??? Thanks
c
Ya they said same bout the Sagem MY V-75 no video but it has there short clips
A
hmm ! I am the first ( my opinion )this phone is cool...but (just 3 mb of mem , NO Bluetooth,no FM radio , cool Design ! but low Performance,Features! and please GSMARENA corect the specifications because this phone has only 3MB,not 30MB :) and has + video cam and 3gp player ! soory GSMARENA but you fail whit the specifications !!!!!!!!!!!!!!! be more CORECTLY !!!!!!!!
Total of 113 user reviews and opinions for Sagem MY V-56.