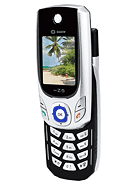 t
it is a nice phone, but only 3,7 memory?? come on!! is good that it has mp3, but irda and bluetooth, the most important things at a phone... are not; pictures are well but not the best. and about usb, here in romania is very hard to find one for this phone... anyway it is a nice phone...
K
My z-55 was Ok and cute! My negative side for the phone is that, the volume is not loud enough and even the speaker is not loud. Can someone help me out to fix this problem? How can I increase the speaker for a better sound quality pls?

Abuja, Nigeria
A
Is it possible to use the myz 5 as a modem via usb data cable to serve the internet on my pc thanks in advance
t
On my way to buy that fone.Luv it at first sight!!! Memeory do lacks,nor bluetooh or irda!! Camera pretty nice.Antenna make it uniqu ecompare to (d500 or d 600).Usb cable supplied-great.
A
I think this fone is ADORABLE! It's so cute! Here in Ireland it costs €99 and I wanted to ask is it worth buying for that price? Is the picture quality etc. good?
m
i think that is a nice fone good pictures good slide mp3 is fine to bad 3.7 mb memory and no irda but yyou can transfer anithing on the fone with data cable
Total of 28 user reviews and opinions for Sagem myZ-5.