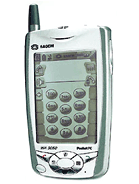 T
Seemed too good to be true and was prepared to be disappointed however...nice design (better than the v ugly Nokia 9110, personal view..) and easy to use except for the alarm clock which is a fag and the sync software which took a little coaxing to load.. Handsfree phone volume good, signal strength as good as my old Nokia, a colour screen would have been nice and a 'Palm-esque' cover better than the one supplied. Attracts a lot of attention but, strangely, not well marketed. Can you use a Microdrive instead of a Compact Flash Card - who knows?
a
My company has just purchased 8 (Eight) Wa 3050 and i find that i has a few short comings such as the carry case should be like the compaq Pda's for easy use. I also find the battery life very short. I could be a bit smaller. The use of the earphone is very poor. The speakerphone volume is very low even if you max the vloume control. The software should support windows 98 and not only 2000.
N
Excellent phone and great design! It would be better though if it would have a color screen.
k
Quite useful gadget. Although the integration between the phone feature and the PocketPC system is still a bit off sync. System hangs too often, especially when receiving and making calls. Design is nice, but a bit big and heavy, people with smaller hands may have problem. P.S. Don't ask me how I got mine... : )
F
I like the design. Haven't tried it though. I'd like it better if it had a color screen
and 32 or 64 mb instead of just 16. Is there any PDA/Phone out there running
pocket pc with such specs? It would really be the one for me.
D
------------------------------
Wasn't me the one that wrote the previous comment. Some guy just loves my name.. :))I guess he is pissed of because he read my comparison between Ericsson T68 and Nokia 8310
------------------------------
And about this guy's suggestion...well - if he is talking about the communicators 9XXX phones - maybe he is right...
Total of 30 user reviews and opinions for Sagem WA 3050.