Samsung just announced four new La Fleur handsets for the Russian market. We got a couple of smartphones with the Android-running Ace and the Bada-powered Wave Y, as well as two featurephones - the C3322 and C3520.
None of the new La Fleur handsets has any functional differences, compared to their original versions. They should all be on sale in Russia by the end of the month.
The Samsung Galaxy Ace La Fleur with its 3.5" HVGA screen, Android 2.3 Gingerbread, 5 megapixel camera and an 800 MHz CPU will go for 9,990 RUR, which translates to about $335 or €250.
We've already met the Samsung Wave Y La Fleur before - it appeared on a Ukrainian store's website. The smartphone comes with a 3.2" HVGA LCD, 2 megapixel camera and Bada 2.0 running on a 832 MHz CPU and costs 5,990 RUR ($200 or €150).
Finally, the Samsung C3322 La Fleur and the Samsung C3520 La Fleur are feature phones with QVGA screens, measuring 2.2" and 2.4", respectively. The C3322 La Fleur will sell for 3,990 RUR ($130 or €100), whereas the asking price of the C3520 La Fleur is 3,490 RUR ($115 or €87).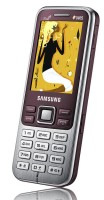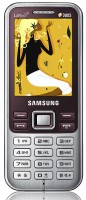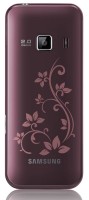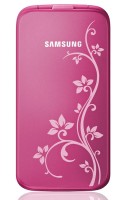 Samsung C3322 La Fleur • Samsung C3520 La Fleur
Those of you living in Russia and still having no idea what to buy their girlfriends and wives for St. Valentine's day, should definitely check these out.
v
is this still available ? how much ? :)
t
where can i buy the red tablet of la fleur collection
T
When are these models being released in INDIA..... Please some one tell me.
ADVERTISEMENTS