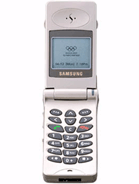 E
Where can I get the software for backing up my phone book? I don't seem to find it any where.
d
The design of A100 is excellent,however there is still one minor problem there is the absence of predictive writing like those in Nokia phones.Hope there is a chance for me to upgrade my A100 in Singapore.
j
i wanna know how i can download all kind of songs in my samsung thru my composer. can anybody teach me how???
Total of 66 user reviews and opinions for Samsung A100.