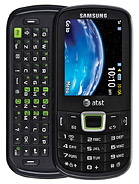 w
Does anyone know how to send a picture from your phone to your personal e-mail account? I have gone over the tutorial and can't find anything on this.

Thank you.
N
I found it takes a long time for my cell phone to connect when i get a call. 3 to 4 sec, Is that the way this phone in ment to be?

s
gdc, 09 Nov 20103RDits a cool 4ne but round here in botswana i never c see 1 around cell 4n4 outlee how do i get 2 ordre 1 online?
Total of 29 user reviews and opinions for Samsung A667 Evergreen.