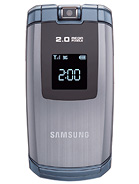 m
Rogers only cares about screwing their customers as long and as deep as possible... this cell phone has no own feature left... all of its features are locked or redesigned so that you always have to buy from rogers... if you go and buy a individual cell phone from Samsung... that would be wise...

the phone is good otherwise, rogers sucks
K
I live in central Alberta and have been a Rogers customer for about 3 yrs problem free. i upgraded to this phone 3 weeks ago and at the moment i'm on my second one as i cannot get a decent signal with it. I also have a krazer through Rogers and have no problems. I put the two phones side by side and have full service with the motorola and just over half with the a746. Otherwise it is a great phone, very user friendly with some nice features. but if i can't get service then it is worthless to me.
r
rogers in canada is still selling old old phones that should be recycled, about time they update their site with modern phones.
m
bought the phone today, right out of the box the weight of the phone is balanced.
solid body for the phone, flip flop great feature. easy to use and browse it's menus. slow sd card upload with a Kingston 4 gigs. needed to select mass storage in the phone to properly enable quick drag and drop for my mp3s. very clear voice at both ends, con is the rotating camera, it seems to be set to only one way on the camera, so when you rotate the camera, you will have to rotate the phone to see the image properly. as for receiving signals, this phone is great in the underground subway. seems to always have reception even in underground parking. con it is overprice for its features. apart from that great phone. i give it an A only
W
Hey guys you know this phone is flop cuz my sister has D830 the same as this mobile but whats the difference

1. D830 has FM while this dont

2. This has external display while D830 dont

Thats it no big deal
n
I agree, i work for wireless tech for rogers and this phone has had no issues what so ever. So what if its not a touch screen and it doesnt have a 5mp cam, this thing is still a tank. If you have the vision package with rogers this phone great for a lot of things including mobile tv, xm radio, and video calling. the more features on the phone, the more problems you will run into. something to think about
A
MARE, 25 May 2008Got this phone in the Rogers Wireless store I oversee. Not generating any interest whatsoever.... moreBecause nobody's buying it means it's no good? Maybe because it's not advertised and not all of their friends have it?
M
Got this phone in the Rogers Wireless store I oversee. Not generating any interest whatsoever. There is only minor differences between this and the a706 (which after 4 months of availibility in my store sold exactly 0 units)

Samsung needs to step it up. Only the a736 is selling moderatly because of the 29.99 CDN pricetag with a three year video calling deal.
?
What is the video recording size?

Also- really nice. If only there was FM radio!
T
wel it lo0ks nice
but y is ther a big thing sayin 2mp on the out side its has 2 be at least a 3.2 if thy want to do it
r
gsmarena open this phone ,no know form inside
?
in canada this one in rogers wireless has video calling
Total of 32 user reviews and opinions for Samsung A746.
ADVERTISEMENTS