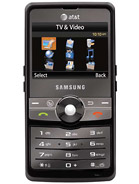 b
Serxhio, 13 Mar 2010i am in albania. why this phone doesn`t open the tv??you need to contact the cellphone company!

z
which type of games work some body help me plzzzzzzzzzzzz!. which type format game is working?
a
The picture makes the phone look ugly.
Look at pictures that people actually took. The keypad is a nice mirror-type finish. The screen is ok...i can barely read it in the sunlight with the brightness WAY low
J
This phone worked well, for 30 Days!!! On the 31st day half the screen became white, and the rest was populated with little white lines, basically rendering it useless! AT&T won't replace it because it's past the 30day (1 day past), and on Samsung's online complaint form, it doesn't even list the phone. I DO NOT RECOMMEND THIS PHONE unless you plan to only have it for 30 days. I would own up if it was something I did, but since I didn't mistreat the phone, nor did I drop it in anyway, there should be no excuse that this phone no longer works! Piece of JUNK!!
a
ram, 08 Jun 2008yes this phone.but no like nokia e61i .e61i very very very hugex600
Total of 14 user reviews and opinions for Samsung A827 Access.
ADVERTISEMENTS