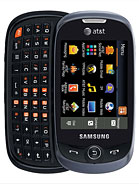 ?
i own this phone and it's the best phone i've ever had, and i've had many. If your going to get this phone go ahead! But if u would like to save alot of stuff onto this phone i advise you buy a memory card, which is only 15 bucks (:
a
its a amazing handset nd i like his baterry pick up is outstanding nd its function is so nice nd flaper is so gud
i love samsung mob.
n
i dnt like the shape of the fone,But it has gud features,who ever wanna by it, go ahead.
?
this model is a very comfortable phone easy to work with and it's one of the best phones i have ever come across *i LOVE IT*
t
ew ew ew ew ew... TFT? ew ew ew ew !!!
i like SUPERAMOLED! ..... thats more i like it!
latest phone my butt!
Total of 35 user reviews and opinions for Samsung A927 Flight II.