Samsung also announced a mesh Wi-Fi router that's a SmartThings hub too
Mesh networking's been all the rage recently, haven't you heard? Pretty much every big router maker now has some kind of mesh Wi-Fi solution, and once Google joined the fray it was clear that this was the next big thing in wireless - maybe. Anyway, you can add a new company to the list starting today, and that's Samsung. Aside from announcing the Galaxy S8 and S8+, the new Gear VR and Gear 360, and the DeX dock for the phones, it's also found time to unveil its own mesh Wi-Fi solution.
It's called Samsung Connect Home Smart Wi-Fi System, and like all of its competitors you will be able to purchase either one device or a pack of three. Where Samsung's devices get a lot more interesting is that each one is also a SmartThings hub. So if you're into the whole IoT trend and have or would like to grab some stuff that works with Samsung's IoT system (which is SmartThings), then you won't need to purchase a (usually rather pricey) hub for those IoT devices too if you have a Connect Home router.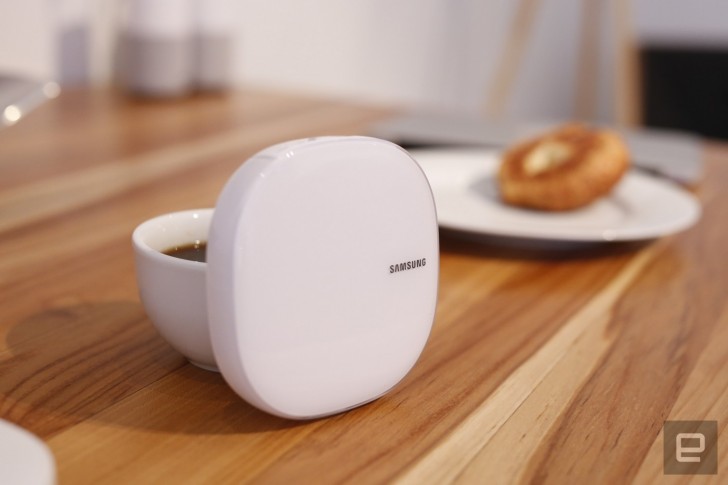 That's an interesting sales proposition for a very specific niche of people who care about IoT at this point, but it is something we haven't seen from other mesh Wi-Fi routers before. On the networking side of the equation, Samsung's new device has a claimed range of 1,500 feet, which unsurprisingly is similar to what you get from a Google Wifi.
The Samsung Connect Home has 2x2 Wi-Fi 802.11ac support (with throughput of up to 866 Mbps), and it comes with 512MB of RAM and 4GB of storage. Powering it up is a quad-core 710 MHz processor, which is swapped out for a 1.7 GHz dual-core chip in the higher-end Connect Home Pro - and this model also supports 4x4 802.11ac for "AC2600" rated speed (that's a maximum throughput of 1.7Gbps). The coverage is the same for the Pro though.
Unfortunately pricing information hasn't been made public, nor a release date for the system. The price will be very important since the Connect Home has plenty of competitors that are already available.
w
I thought that as well. hahahaha
D
LOL! The supplied images want you to believe that the router should be part of your breakfast! :P
?
they should put 4g modem on it, it will be one device solution
ADVERTISEMENTS