The most recent comScore figures confirm a trend we've become used to in 2012: Samsung and Google on top, with Apple steadily gaining ground.
In what is steadily turning into a two horse race, Android and iOS now combine to hold a whopping 88.7% of the smartphone market. RIM's BlackBerry OS continues to nosedive, down one point over the previous trimester to 7.3%, while Microsoft's Windows Phone OS has dropped to 3%.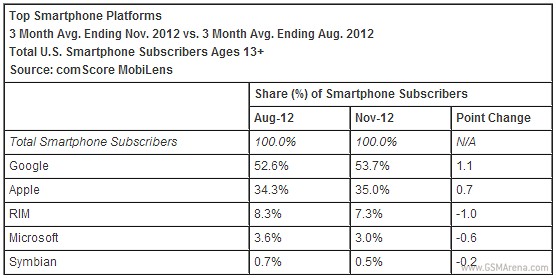 In terms of total mobile devices (which includes feature phones as well as smartphones), Apple has passed LG and to become the second largest mobile OEM in the US. Its 1.4 percent point growth from August to September of 2012 was also the highest of any of the other top brands.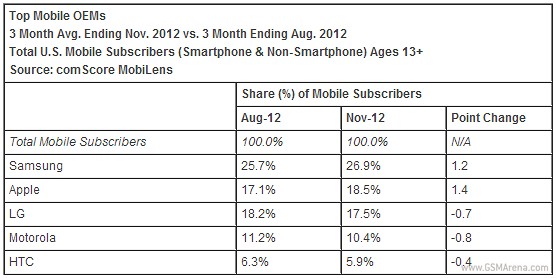 Keep in mind that both these charts reflect figures taken prior to the holiday season, so it'll be interesting to see how these numbers change when the next comScore figures roll around in February.
Finally, in terms of mobile content usage, almost everything you can do with your mobile phone has seen an increase in activity. Just under 76% use their phone for text messaging, while downloading apps and social networking have seen the largest increases over the past trimester, coming in at 54.2% and 39.2%, respectively.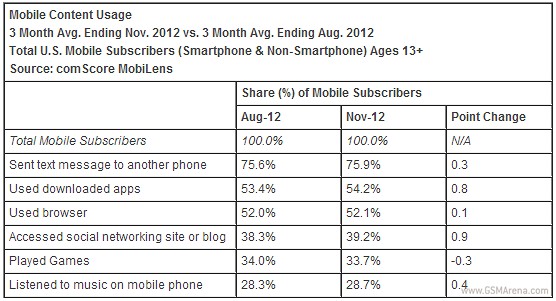 D
Will U pls shut up ha... What is ur problem if Nokia is on top.. R U the owner of gsmarena or Samsung?? No right then y U giving here such comments.. Samsung may be number one now but most of the people who want to look for a phone the first choice w...
D
The first set of statistics are for smartphones only, while the second are for all mobile phones.
S
How come Apple is 35% in the first graph but 18% in the second? Apple is the only manufacturer of iOS products so shouldn't both numbers be identical?
ADVERTISEMENTS