As yet another quarter comes to a close it seems that comScore might as well just start using the same template for their US smartphone market share reports as the same story keeps repeating itself: Samsung and Apple on the rise.
The latest finding has each of the two top OEMs solidify their positions at the top of the smartphone market, with increases of 1.2 points. Apple now has 41.8% of the market, with Samsung coming in second at 26.1%. At the start of 2014, two-thirds of smartphone users in the US have either an Apple or a Samsung device.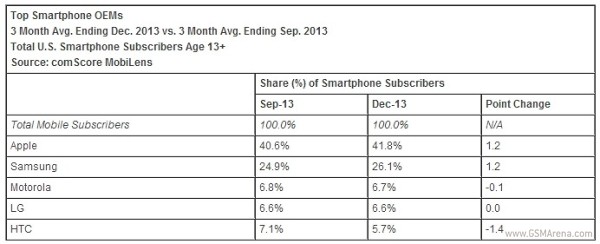 A distant third is Motorola, which had taken the position over from LG with 6.7%.
When it comes to smartphone platforms, Android continues to dominate with over 50% of all devices running Google's OS. However, all platforms besides iOS lost market share in the last quarter of 2013, with Apple's OS gaining 1.2 points to control 41.8%.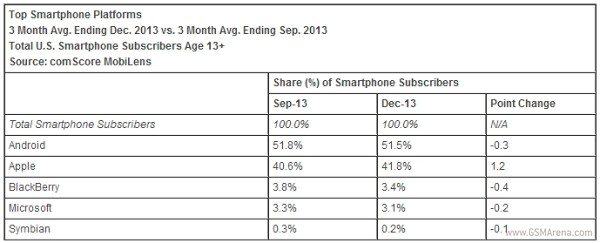 h
Have you seen the lies and rubbish that the Westboro Baptist Church spread? That kind of free speech is what I mean. Free speech comes at a price my friend, and those who use it are often not the ones that must pay for it.
?
" I've lived there, I know what I'm talking about." Wow, your sense of hubris is almost palpable. Simply living in a foreign country does not in any way make you an expert on said country. You would have to come up with some extrem...