Samsung and AT&T have just announced the market availability of the I997 Infuse 4G smartphone. The two companies held a dedicated event in New York to celebrate it. We were on site and we even managed to spend some quality time with the hot handset.
Packing a 4.5" Super AMOLED Plus display (the largest AMOLED screen on a smartphone to date) and a 1.2 GHz CPU (the fastest the AT&T network has seen) the Infuse 4G was first announced at CES, but has only now began its march to the shelves.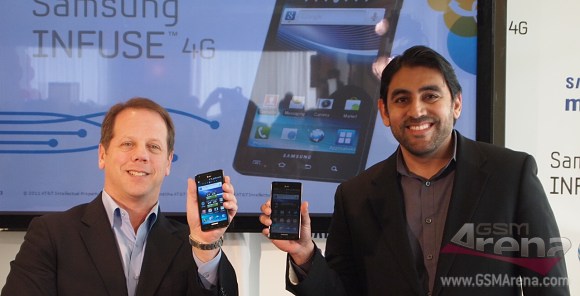 It will take until 15th May for the Samsung I997 Infuse 4G to arrive there. AT&T will be asking a cent under $200 for the smartphone as long as you are willing to sign a two-year contract. A minimum $15 data plan required, but given the impressive HSPA speeds the Infuse 4G promises (up to 21.1 Mbps) you'd be tempted to get one anyway.
Here go the promised live shots of the device - it's rather reminiscent of the Samsung I9100 Galaxy S II, but packs an even larger (and thus more impressive) screen.









Samsung I997 Infuse 4G live shots
With a screen this big the Samsung Infuse 4G surely is a handful, but given the incredibly slim waistline (8.9mm) it's not too hard to operate. Plus the Froyo-running (unfortunately!) droid is pretty light so it's not going to tear a hole in your pocket.




The Samsung I997 Infuse 4G sized up against the T-Mobile myTouch 4G and the iPhone 4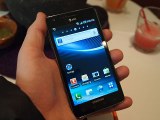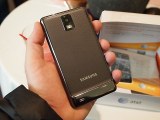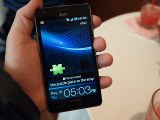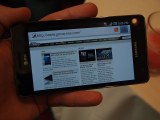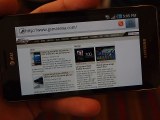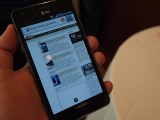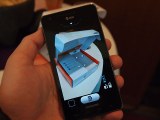 More live shots of the Samsung Infuse 4G
Naturally, with such a massive screen web browsing is a breeze. The numerous Angry birds fans will be glad to know that the preloaded version of Angry Birds features an exclusive hidden level for Infuse 4G customers. It's a special new golden egg for you to collect.




The dialer • Playing Angry Birds • Browsing the web
Despite missing on the dual-core fun the Samsung I997 Infuse 4G feels pretty snappy. We can't tell you if the Cortex-A8 CPU overclocked to 1.2 GHz will be good enough for a flagship device until we are done with the review though (it's already in the works so you won't have to wait for too long). The first benchmark results we got weren't particularly encouraging, but we know that Quadrant can often be misleading.
there is a lot of phone with the same speks and better out there with a smaller display this 4.5inch is perfect would love a wi phone OS on this phone, sick and tyred of all the android phons.
yes and no. Yes because it is sporting 4.5" super amoled plus screen much like the droid charge. And unfortunately no, because its using a single core processor instead of the new dual core orion chipset that the galaxy s 2 has and also its usin...