Samsung and Sprint announced the upcoming availability of two new devices - the Galaxy S II Epic 4G Touch in frost white and the cheap gray clamshell - M370.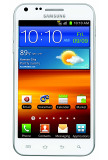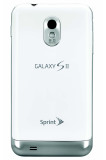 The frost white Galaxy S II Epic 4G Touch
The Galaxy S II for Sprint is called Epic 4G Touch and it's been available for quite some time now. If you haven't got this one yet, you will be happy to know Sprint launches a beautiful frost white version. The specs remain the same, the difference is just in the color. The droid will become available through all Sprint channels this Sunday, January 8, for $200 with a two-year contract.
By the way, if you want to see the Galaxy S II Epic 4G Touch in action, you should head over our blog.
The other new phone is the clamshell M370 - it has a 2.4" QVGA display, a 1.3MP snapper, a 1000mAh battery and a small external screen. The M370 will also be launched this Sunday on $20 price with a two-year contract.
j
best phone ever love it want it got it
D
samsung galxy S two epic Four Gee touch!!! THE LONGES PHONE NAME EVAR!
D
Yeah they bring out another clamshell and guess what,,,,,its got poor specs yet again..High powered clamshells what i am after...:-(
ADVERTISEMENTS