Samsung has been working hard this holiday season and today announced its 8Gb (that's 1GB) LPDDR4 mobile DRAM chip. This is not only the industry first LPDDR4 mobile DRAM, but it's also the first mobile DRAM to fit such a high density (8 gigabits) on a single die. Four of those dies can successfully be combined for a total of 4GB of mobile memory - an amount that so far has not been achieved commercially.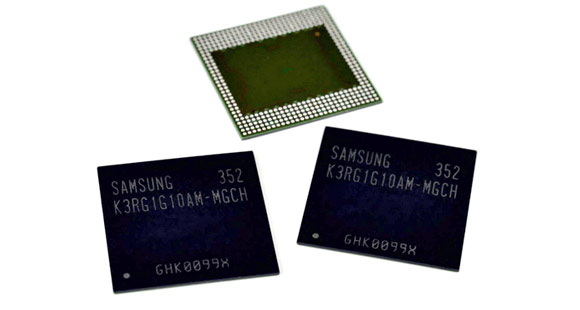 Fabricated on the 20nm manufacturing process, the new mobile LPDDR4 chips are reportedly 50% faster than the fastest LPDDR3 memory on the market, while also consuming 40% less power at 1.1 volts.
Here's what Young-Hyun Jun, executive vice president, memory sales & marketing, Samsung Electronics said regarding the new product.
This next-generation LPDDR4 DRAM will contribute significantly to faster growth of the global mobile DRAM market, which will soon comprise the largest share of the entire DRAM market
The data transfer speeds the new 8Gb LPDDR4 DRAM chip can achieve are 3,200Mbps per pin - twice the speed of currently produced 20nm LPDDR3 DRAM.
Samsung also hints that the resulting 4GB RAM modules will be included in "UHD smartphones, tablets and ultra-slim notebooks," which says something about the jump in smartphone screen resolution during the next year. Perhaps even the upcoming Galaxy S5 may be one of those UHD smartphones.
Mind you, to utilize that kind of memory, the Galaxy S5 will need a 64-bit CPU architecture. Good thing Samsung promises it's 64-bit SoC will be ready in time for the phone's announcement (usually in the first half of the year).
Thanks for the tip, sharang!
b
so they werent able to apply this RAM to s5 or Note 4 coz there werent 64bit.. heres to hoping that this comes in s6 (fingers crossed) :)
?
Very good comment. One note, not all task killers in Android work the same way, where some task killers don't automatically kill all tasks and list tasks (oldest idle first) allowing the user to "uncheck" which tasks will be killed (a numb...
A
You can access more then 4GB on intel hardware if using 32 bit architecture but it is done in a different way. I don't know about ARM architecture.