Along with the Galaxy Alpha, Samsung also debuted the new Exynos 5430 SoC. It is the first smartphone SoC by any manufacturer to be based on the 20nm process.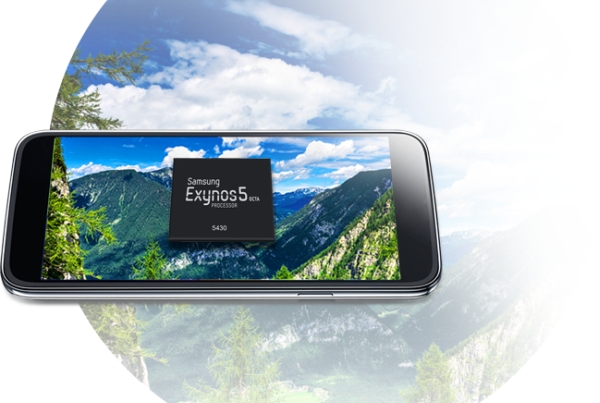 The major feature here is obviously the 20nm HKMG process technology. The shrink in die size makes the chip more efficient, thereby reducing power consumption.
Other than that, there are not huge improvements on the CPU and GPU side. The 5430 is still using ARM's big.LITTLE configuration, with a combination of quad-core Cortex-A15 clocked at up to 1.8GHz and quad-core Cortex-A7 clocked at 1.3GHz. All cores will be maxed out on the Galaxy Alpha to get the most out of the chipset.
On the GPU side, we are still looking at a ARM Mali-T628 MP6 clocked at 533MHz. The GPU can scale up to WQHD (2560 x 1440) and WQXGA (2560 x 1600) resolutions.
Exynos 5430 also has a Multi Format Codec with H.265 decoder, dual ISP and a separate co-processor called Seiren for decoding audio.
There are also other technologies at work here to reduce power consumption, including Mobile Image Compression and Adaptive Hibernation Display technology, which save power during screen refreshes.
The Exynos 5430 will make its first appearance on the Galaxy Alpha. You can see how it performs in our preview of the handset.
r
So galaxy s5 owners are foolss ! Right ?
S
64bit means you can have more instructions sets. 4GB needed for 64bit is rubbish thinking..because you believe in the CopyKing Samsung. More instructions means there is shorter way to do something. Stuff that normally takes a couple of clock cyc...
D
Apple optimized the newest ARMv8 architecture last year already, makes it 6-issuing one instead of 3-issuing. Samsung is still stuck with the ARM reference design, even for the old ARMv7. What a comparison.
ADVERTISEMENTS