Samsung announced a brand new 7" Android tablet, dubbed Galaxy Tab 3 7.0. It brings the now familiar S4 styling (just like its 8" cousin) and comes in Wi-Fi and 3G versions, with the 3G one being fully voice call capable. It even adds a proximity sensor, you know, if you want to put up the tablet up to your head.
The Samsung Galaxy Tab 3 7.0 is also noticeably more compact and lighter (188.0 x 111.1 x 9.9mm, 306g) than the Tab 2 7.0 (193.7 x 122.4 x 10.5 mm, 345g) and Tab 7.0 Plus (193.7 x 122.4 x 9.9 mm, 345g).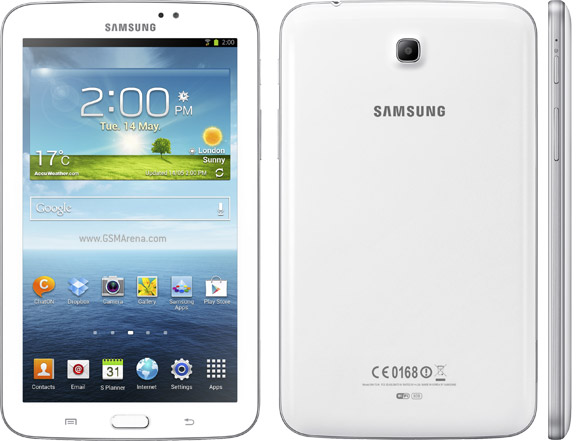 Other than that it's very hard to tell what's changed – the Samsung Galaxy Tab 3 7.0 still uses a 7" WSVGA (600 x 1024) TFT screen, a dual-core 1.2HGz processor with 1GB of RAM, has 8/16GB of built-in storage (expandable via the microSD card slot), dual-band Wi-F a/b/g/n, Bluetooth 3.0 and a 4,000mAh battery
Yes, the Tab 3 7.0 does launch with a newer version of Android, but it's 4.1, so not even catching up to the Galaxy Megas.
Anyway, Samsung will begin to gradually roll out the Galaxy Tab 3 7.0 globally in the beginning of May for the Wi-Fi version and in June for the 3G version.
s
How much is this Samsung galaxy tab 37.0 with new s4 like design
j
Why this tab always kernel panic upload mode?pls help
E
Really love my Tab 2 7.0 - use it constantly for so many different apps. Form factor is ideal for me in every respect. If the Tab 3 7.0 offered a meaningful step up in functionality or speed, I'd be a natural buyer. But it appears that the diff...
ADVERTISEMENT