We have already seen the 7-inch version of the Samsung Galaxy Tab 3, which was announced back in April. Now Samsung has announced two new additions to the lineup in the form of an 8-inch and 10.1-inch model.
The 8-inch Samsung Galaxy Tab 3 8.0 improves upon the 7-inch by offering a slightly bigger and higher resolution 1280 x 800 display and a faster 1.5GHz dual-core processor. The slate packs a 5 megapixel camera on the back, 1.3 megapixel on the front, 16/32GB internal memory with microSD card slot, 1.5GB of RAM, LTE, Wi-Fi, GPS, Bluetooth connectivity, 4,450mAh battery. It's running on the latest Android 4.2 Jelly Bean.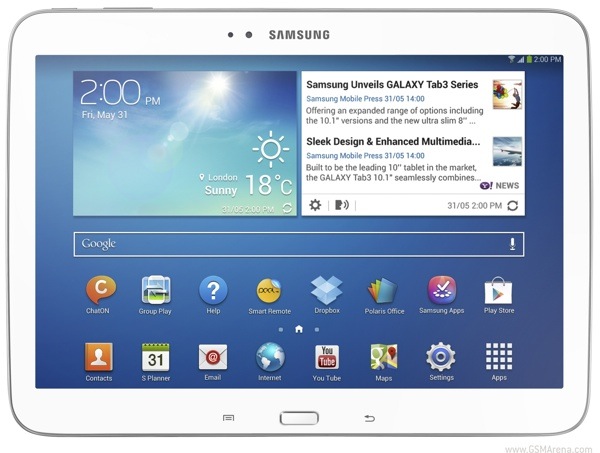 The Samsung Galaxy Tab 10.1 model has similar specifications, including the same 1280 x 800 resolution, only it's stretched over 10.1-inches. Only differences here are a faster 1.6GHz dual-core processor, 6,800mAh battery and strangely, a lower resolution 3 megapixel camera and only 1GB of RAM. Also, as you can see from the image above, Samsung has completely dumped the on-screen keys in favor of physical buttons below the display.
Although there is no mention of it in Samsung's press release, Reuters claims that the Galaxy tab 3 10.1 is running on Intel's Atom processors. We will need to get our hands on the Galaxy Tab 3 8.0 to find out which exact processor is running under its hood.
j
both tablets camera is worst 3.15 megapixle is worst camera
o
The Samsung Galaxy Tab3 has been launched in Lagos, Nigeria but can't be found in any shop in Lagos. I can't wait to buy the Galaxy Tab3 8.0.
Q
dear samsung! we are wish specification and features on galaxy tab 3 10.1 will be same with galaxy s4. it will be love and much for buy it. if galaxy tab 3 10.1 same specification with galaxy s4. we wish like that. thanks.
ADVERTISEMENTS