Following Sony, Samsung is the second mobile device maker to officially unveil its schedule for CES 2015. The huge trade show is fast approaching, as we're now exactly one month away from its debut.
January 5 is when Samsung will hold a press conference at CES, starting at 2 pm Las Vegas Time. This will be followed by a keynote address by BK Yoon, Samsung Electronics CEO and President, at 6:30 pm.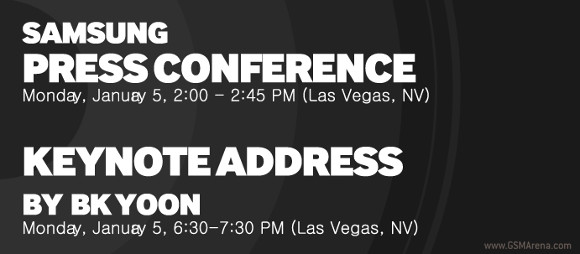 On the same day Sony will hold its CES presentation, though that will start at 5 pm. So this is shaping up to be a pretty crowded day, as the day before the trade show's doors open has always been.
Right now it's unclear if Samsung will use this avenue for announcing new devices, but given past behavior we wouldn't rule that out.
Thanks for sending this in, Ralph Simons!
D
Compare the smoothness of the UI by using the high-end note 4 along side the mid-range Xiaomi MI3. Then you'll know why the touchwiz sucks.
D
While touchwiz may not be the best ui out there. It certainly does not LAG. I agree tgat it is terrible in devices like the grand and Samsung star and many of the lower end Samsung phones. But the s4, s5, note 3 , note 4 do NOT LAG. unless ofcourse y...
?
All java apps lag because they run in a virtual machine. And there is a garbage collector inside the virtual machine, which makes it to be more slower.
ADVERTISEMENTS