Here is the piece of news many people have been waiting for. Samsung has just announced the chipset which will go in its high-end tablets and smartphones. Dubbed the Exynos 5250, this latest SoC is the successor of the massively successful Exynos 4210, which as many of you know is the one powering the Samsung Galaxy S II.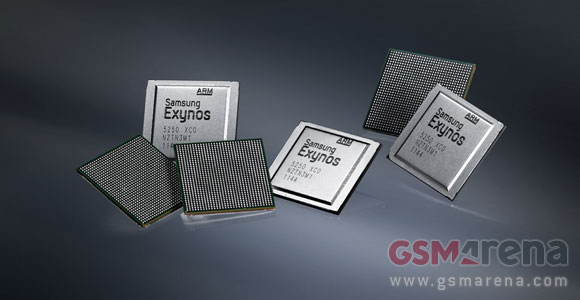 Just like it, the Exynos 5250 features two 2GHz cores, but now they are ARM Cortex A15 ones, built on the 32nm manufacturing process. Samsung claim it can provide double the performance of the previous Cortex A9 cores, the Exynos 4210 was using.
In the 3D graphics department, the new Exynos 5250 shines, too, boosting the performance up to four times. Speaking of 3D graphics the new chipset runs streoscopic 3D as well. It also supports much higher resolutions, compared to those we see in today's tablets and phones. In fact, the Exynos 5250 supports screen resolutions up to WQXGA 2560x1600 pixels.
Undoubtedly, with this kind of power, we will all be able to enjoy faster, more graphics heavy games and sharper text. According to Samsung, the mass production of the Exynos 5250 will begin in the second quarter of 2012. We simply can't wait!
s
well if you see a phone can be used as a camera, ipod,telephone,recorder then why not a pc
ADVERTISEMENTS