Samsung canceled in-person attendance of MWC 2021, committing only to an online presence. Today the company made it official and set the time and date for the Samsung Galaxy MWC Virtual Event, which will be held on June 28 at 17:15 UTC. It will be livestreamed on YouTube, so everyone can attend.
The press release announcing the event is pretty terse – the company will will talk about the "ever-expanding Galaxy device ecosystem" and will present a "vision for the future of smartwatches". What Galaxy devices?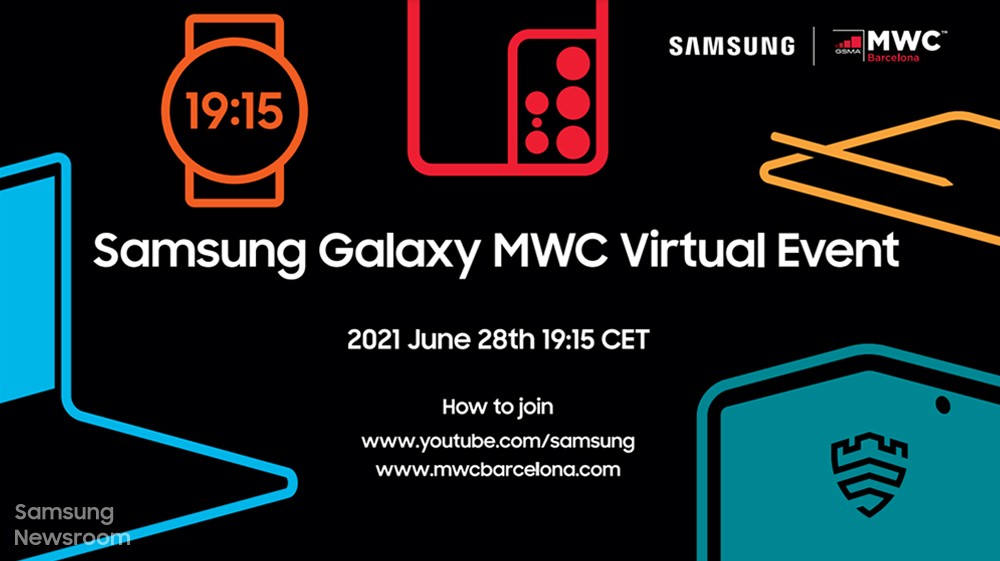 Well, the silhouettes offer some clues. Are those the Galaxy Z Fold3 and Z Flip 3? Could be, though the one on the left looks more like a laptop. The red device in the middle is the S21 Ultra and is that a stylus to the right? This could be a new tablet, perhaps, the Galaxy Tab S8 family, which leaked last month (it's not going to be a Galaxy Note). The watch (Galaxy Watch4 or Watch Active4) should be quite interesting too with a 5 nm chipset and Google Wear OS skinned with One UI.
However, there's no guarantee that we'll see new product launches next week. Galaxy product announcements are typically labeled "Unpacked", so this could be more of a bird's eye view of Samsung's product strategy and an introduction to new technologies that will eventually make their way to the mentioned gadgets. Like the aforementioned Wear OS customization.
It's more likely that this is just build up for the upcoming Unpacked event. According to rumors, the foldable phones and the new smart watches will launch in August, so there we need to have patience.
Source (in Korean)
N
Always, the best way to experience the "ecosystem", even it from Samsung or Apple, is by purchasing all the devices like smartphone, smartwatch, tablet, pc/laptop, and tws with total price about USD 6000
D
Waiting . . ..must be killer products as usual
?
I think that's a Z Fold 2 not 3. A hidden camera would better suggest the Fold 3 as a teaser
ADVERTISEMENTS