Samsung is extending its application store - Samsung Apps - to new, unconquered territories. Samsung Apps offers a selection of over 500 apps, both paid and free, for Omnia phones - both for ones with Windows Mobile and for ones with Symbian OS.
Samsung Apps was until now available in just the UK, France and Italy. The service has just become available in Germany and Singapore with support for Brazil and China just around the corner. Support for those is expected by late January.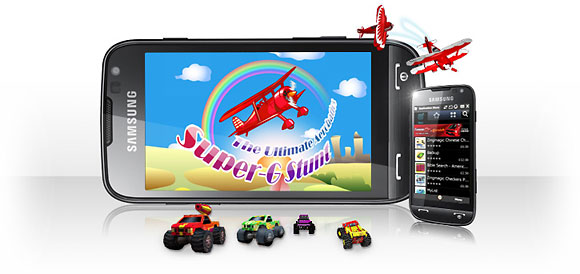 Samsung Apps currently offers applications for just four Omnia phones - the original Samsung i900 Omnia, the Samsung I8000 Omnia II, the Samsung B7300 OmniaLITE and the Samsung i8910 OmniaHD. But Germany, Singapore, Brazil and China will only get support for Omnia II and OmniaLITE. For France and Italy, it's Omnia, Omnia II and OmniaHD.
They've got some big names lined up for the game titles - Guitar Hero from Mobile Bus, Need for Speed from Electronic Arts, Spiderman from Gameloft and so on. Localized versions of applications will be provided for each country.
From mid-February, the Samsung Store will come preinstalled on devices sold in Germany and Singapore, but if you already have a compatible Omnia head to samsungmobile.com and download the Samsung Apps client from there.
There's another way to get apps on your phone - using Samsung Kies. Samsung Kies is a PC suite - it can do the usual data synchronization, editing of contacts and calendar entries and so on. But it can also download applications from Samsung Apps, which will be transferred the next time you sync your phone. This also provides a backup for your downloaded apps. Kies can be downloaded for free from here.
?
google search symbian apps, sure you will find plenty there.
d
i hope the app store comes to australia soon cos im getting bored of my i8910 hd
M
I hope Philippines will be included before the year(2010) ends! lol I wonder why are we always late. Anyways, i love my phone, looking forward to get that Samsung Store directly from my phone menu. Have a nice day everyone!
ADVERTISEMENTS